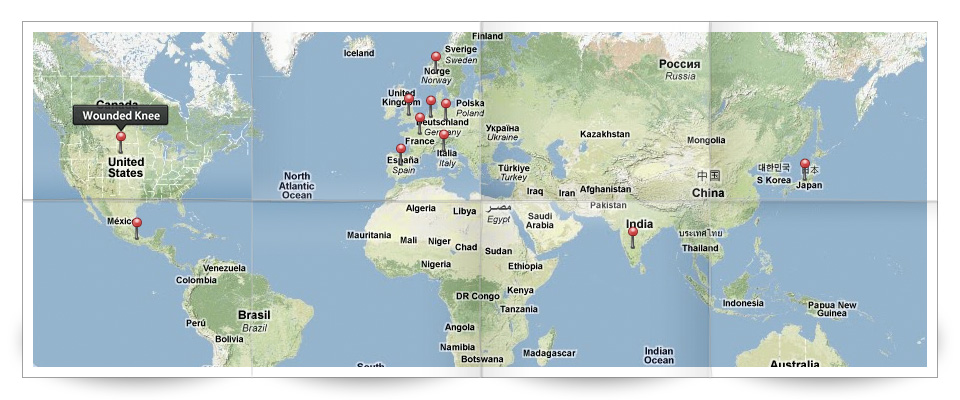 You are invited to join with us in a Global Wide Sacred Ceremony!  
This December 29th at 12 noon in your local time zone please enter into prayer and sacred space with us.  Together let us honor all who have fallen not only at Wounded Knee, but all of our beloved ancestors who have fallen throughout the millennia of global conflict.  Let us create a Global Wide Ceremony together wherein we begin the sacred journey to redress and heal our multigenerational and multi-lineal wounds. Moving Forward in a Sacred Way.
To register your local ceremony and be part of our interactive features, please click here:
We have over 100 locations registered to host a ceremony world wide, some of the locations are listed below. 
CLICK HERE FOR OUR LIVE INTERACTIVE MAP AND TO ADD YOUR LOCATION
Ceremony Locations include: 
Wounded Knee, SD
Sandy, UT
Belgium
Egypt
London, UK
New Zealand
Turcifal, Portugal
Izalco, El Salvador
Byanby AYA
New York City
Pensacola, FL
Oklahoma
California
Elkin, NC
Spokane,Washington
Massachusetts
Alabama
Dallas, TX
Park City, UT
Salt Lake City, UT
Hodgdom, Maine
Minneapolis, MN
Scottsdale. AZ
Atlanta, GA
Phenoix, AZ
Seattle, WA
Grand Teton Natl Park Wyoming
Colorado
Oregon
Supai, AZ
Sedona, AZ
Ashland, OR
So. Jordan, Utah
Utaly, Colorado
Albuquerque, NM
Utah
Maine
Oak Harbor, WA
Wyoming
Arlington, VA
San Diego, CA
Savannah, GA
Pleasant Hill, CA
Philadelphia, PA
Ontario Canada
Middleltown Springs,Vermont
Corvalus, OR
Central CT USA
St. Paul NM USA
Port Chester, New York
Winston Salem, NC
Northfield, MN
Farmington, UT
Mountain View,CA
Hailey, ID
Santa Fe, NM
Portland, OR
River, OR
Pittsburg, PA
Belleuve, WA
Pes'la BlackHills, SD
Charpenno River, SD
Maryland
Tennessee
Seattle,WA
Byanby AYA
Alabama
Northern California
Chicago, IL
Maryland